With all the little details involved with making your special day perfect, music selection can easily become an afterthought. But with the right music, your wedding can transform from just a beautiful reception into an unforgettable experience that will keep people dancing the night away.
There are all sorts of common misconceptions about wedding music that need to be debunked.
Myth # 1: Slow Songs Come First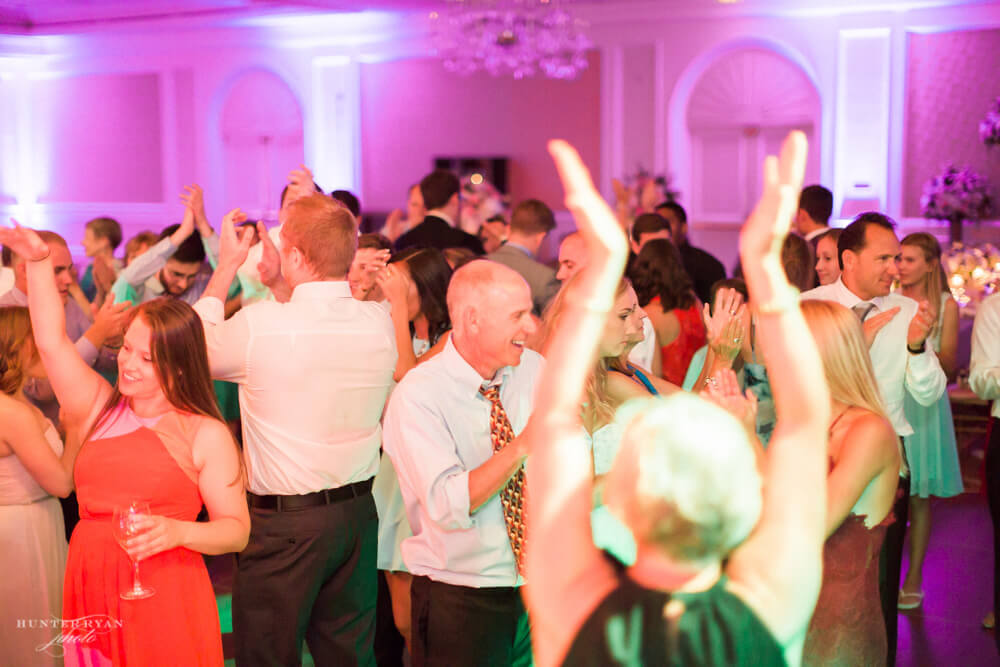 A major myth circulating is that slower paced music should be played earlier in the evening and the more upbeat music should be played later in the night. The reason brides and grooms feel the need to separate the types of music is to please all their guests from grandparents to the younger wedding party. Truth is, the best way to cater to everyone is to provide a wonderfully mixed selection of tempos and genres that will keep your guests guessing as to what will come next, instead of excluding them until their preferred music begins to play.
Myth # 2: All DJs and Bands Can Play Weddings
Not all bands or DJs are created equal, and not all have experience playing important events where they aren't supposed to steal the spotlight from the happy couple. Weddings are not shows or concerts, and it's easy to mistake an awesome bar band for an awesome wedding band. Please be aware that wedding bands, like None Other, are experienced at knowing how to appeal to a very diverse crowd versus just playing for the bar scene.
Myth # 3: Bands Focus On, Or Have A Strength In One Genre
This is where many bands really stand apart. A bar band might be stuck in a specific niche, versus an experienced wedding band, who can offer a wide range of musical depth. Experienced wedding bands like None Other can cover music from Aretha Franklin to LMFAO. Some wedding bands may sound great at Motown, but sound awkward when performing rock, and vice versa. Make sure the band can play different genres with an authentic vibe. As great as Billy Joel is, he probably wouldn't 'rock out' a Guns N Roses song. It's also awkward to have a band perform a rock song with the stage presence of James Taylor. Make sure the band you choose plays many styles and looks natural doing it.
Myth # 4: You Need Many Lead Singers In A Band
Having both male and female lead vocals is very important to a diverse night of music. What is not needed is a band with multiple singers who are there to make the band look 'larger', or hide the fact that the musicians are boring. You want quality over quantity. A strong male and female singer is better than 3-6 mediocre singers. For example, Christina Aguilera is a better singer than all the Pussycat Dolls combined. Many bands that use this technique also switch singers constantly. The singers you book may not be in the band at your event. On your big day, you should know who's going to be singing to your family and friends. If the musicians also sing, like they do in None Other, you will have a full sound on 'big vocal' songs like The Bee Gees and The Tempations.
Myth # 5: Wedding Bands Take Many Inconvenient Breaks
Of course a band will need to take a break between sets, but that doesn't mean the room has to suddenly go silent, with all the fun and dancing halting until they return 15 to 20 minutes later. Professional bands will know when to take a short hiatus, like during the cake cutting, toasts or bouquet toss. This can help shorten the lull between sets while allowing the band to take the necessary break. You can also request that the band have a DJ on their breaks so there is no stopping of the music. Some bands take breaks up to 30 minutes or longer. This is entirely too long, so make sure your band knows you expect shorter breaks. Some bands offer to stagger musician breaks during the night, so that the music is continuously live. This may sound enticing, but usually results in moments where there may only be two or three musicians on stage with lackluster performances.
Myth # 6: A DJ Will Ramble
Everyone has attended a wedding or event where the DJ talks way more than is deemed necessary in an attempt to be a good emcee. What starts as good intentions can quickly turn into a train wreck. Communicating what your expectations are with a DJ before the reception is key to creating the right vibe you want for your special celebration. Also, an experienced wedding DJ will be much better at anticipating your needs and adjusting to the wants of the diverse crowd in attendance.
Myth # 7: You Can Have A Band or a DJ, But Not Both
This is probably the biggest misconception concerning wedding music and it is so far from the truth. The truth is, if you can afford both a band and a DJ, it is definitely worth considering. The combination of a band and DJ is sure to keep your guests dancing all night. This also allows options like having a band member play during the ceremony, and having a DJ for the cocktail hour and afterglow. Wiley Entertainment makes having an experienced band and DJ combination simple. Contact us for a quote for your wedding celebration!
Live entertainment with no limits.
When you choose Wiley Entertainment, you're not just getting a set of songs. You're getting an experience that will make your event spectacular and unforgettable.
Get a Free Consultation